Name of the Project: Research Project for MLL Leukaemia
Principal Investigator: Dr Mireia Camós
Centres: Sant Joan de Déu Hospital in Barcelona.
Background
Mixed Lineage Leukaemia (MLL) is a very aggressive form of childhood leukaemia. Although progress has been made in the identification of different types in recent years, and there have been improvements in the choice of treatments, the sad fact is that many patients have a high-risk form of this disease, which eventually kills them.  
Although this type of leukaemia can occur at any age, the forms of this disease that appear in young children are very aggressive, especially among babies. Over the past few years, Dr. Mireia Camós has been developing a genetic and molecular study of these tumours in her laboratory. One of the aims of the project is to identify a pattern of alterations characteristic of cancer cells in these tumours, which would guide the search for new therapies. Great efforts are also being made to develop new techniques that allow the disease to be monitored better in each individual patient so as to anticipate relapses and provide more appropriate treatments. 
Description of the Project
This project is divided into two parts aimed at addressing two different aspects of childhood leukaemia. The first of these focuses on conducting a detailed analysis of tumour cells in MLL, looking for potential therapeutic targets. The second focuses on improving diagnostic, monitoring, and treatment techniques for children with leukaemia. 
Genetic and Epigenetic Analysis of MLL

  
The aim of this project is to find new treatment alternatives for MLL. During the development of the project, samples of MLL patients are being analysed, obtained from the Sant Joan de Déu hospital itself and through partnerships with other hospitals. The team is conducting an analysis of genetic and epigenetic mutations (alterations that affect cell behaviour, which occur at a different level to genetic mutations and can be reversible). Current studies focus on so-called microRNAs, small fragments of genetic material that are very relevant in modulating a large number of cellular functions. This will show which alterations cause some children to develop more aggressive forms, and allow treatments to be improved. 

New techniques for early detection and better monitoring of Minimal Residual Disease
The aim of the project is to develop and validate new ways of diagnosing and monitoring the most aggressive forms of lymphoblastic and myeloblastic leukaemia, focusing particularly on MLL. 
Innovative 

mass sequencing techniques 

will be used to detect the genetic alterations present in these forms of leukaemia

. T

hese techniques will be combined with ones

 employed now

 to pick up on cases that are not currently detected using conventional techniques.

 

These novel techniques also allow clinicians to know the exact alterations affecting each patient, 

including identifying 

which 

genes

 

they 

affect, 

therefore 

mak

ing

 it easier to design 

customised diagnostic techniques

, get a more accurate prognosis, and adjust the therapies for each child.

 
This will mean that treatments can be adapted to each patient according to the genetic characteristics of their disease, adjusting or customising the therapies, making them more efficient and drastically reducing the appearance of side effects. 
In addition, the progression of the disease can also be more effectively monitored, and the number of malignant cells present in the patient's blood can be known at all times and at a lower cost. This can be done very early and in a very targeted way in the event of recurrence, which has a great impact on the child's potential recovery.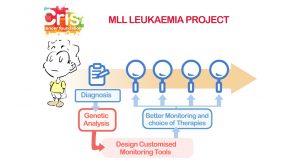 Latest developments in the project
Genetic and Epigenetic Analysis of MLL

 
The results obtained have allowed the researchers to identify alterations in the mechanisms that have to do with how the cell reads and interprets DNA, i.e. Epigenetic. Certain proteins that are responsible for this process (called Histone deacetylases or HDACs, see illustration), are related to specific genetic subtypes such as MLL and, more importantly, are directly related to aggressiveness and poor prognosis. Some of the results of the study have been published in the prestigious British Journal of Haematology.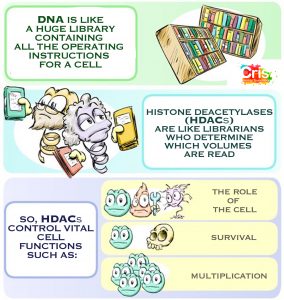 The studies conducted into HDAs show their importance in the development of acute leukaemia and indicate that they are an interesting target for children with high-risk leukaemia. 
In parallel, another type of molecule that affects the information extracted from DNA is being analysed in 250 patients with childhood leukaemia. As indicated earlier, they are called microRNAs, and they are able to cancel the reading of some genes and therefore the cell function. There are thousands of different microRNA, and it has been shown that the excess or absence of some of them may be related to the development of different types of childhood leukaemia.  
Once the results of the microRNAs are completed and interpreted, they will be compared and integrated with those obtained through HDAC analysis and other genetic analyses. This will provide a complete and integrated vision of the alterations related to the appearance and malignancy of MLL, and will facilitate the development of much more targeted therapeutic strategies. However, a change in the materials provided by the suppliers of the reagents required for the analysis of microRNAs has forced the team to adapt its study protocols and repeat part of the analysis, to ensure the robustness of the results. 
New techniques for early detection and better monitoring of Minimal Residual Disease

:

 
A great deal of effort is being made to develop genetic analysis techniques capable of refining disease diagnosis and monitoring strategies in childhood patients. These refinements will show whether these techniques are capable of detecting with a high level of sensitivity the presence of alterations, breaks, and changes in the DNA of patients.  
Following the collection of a large number of MLL samples (42) in 2018 from various hospitals (H. Sant Joan de Déu, Hospital Niño Jesus, Hospital Valle Hebron, H. Carlos Haya and Hospital La Fe, among others), the team has been able to carry out genetic analysis using special techniques. One technique, known as TLA (Targeted Locus Amplification) has proven to be highly effective in precisely detecting the genetic abnormalities inherent in MLL in the samples of most patients.  
Another mass sequencing analysis technique has also been initiated with the study of a selection of genes relevant to childhood leukaemia. The AmpliSeqTM Childhood Cancer Panel (Illumina) commercial kit has also proven to accurately detect the main alterations and fusions of MLL and other forms of childhood leukaemia.  
The use of these two mass sequencing techniques in DNA and RNA will allow researchers, once the alterations of each patient have been identified, to design more sensitive techniques to monitor the disease in each individual child. This more refined and predictive approach to monitoring will allow clinicians to anticipate possible deterioration and relapses in children, and so choose the best type of therapy to use at any given time. 
For more sensitive disease monitoring, they will use molecular techniques such as quantitative PCR and implement new techniques such as digital PCR.