Name of the Project: Research Project for MLL Leukaemia
Principal Investigator: Dr Mireia Camós
Centres: Sant Joan de Déu Hospital in Barcelona.
Background:
MLL (Mixed Lineage Leukemia) is a very aggressive type of leukaemia in children. While improvements have been made in the past few years in identifying the different types of MLL leukaemia and in selecting treatments, many patients suffer a high-risk form of the disease and died.
Although these types of leukaemia may appear at any age, the forms that appear at younger ages, such as in breastfed infants, are very aggressive. In the past three years, Mireia Camós's laboratory has worked to identify a pattern of alterations characteristic of cancer cells in these tumours, which may allow us to direct the search for new therapies in the future.
Project Description:
The goal of this project is to seek new treatment alternatives for MLL leukaemia. We expect to analyse samples of MLL patients, obtained both from the hospital Sant Joan de Deu and as result of cooperating with other hospitals. Analyses will be performed of genetic mutations and other kinds of alterations affecting cell behaviour (called epigenetic, as they occur at a different level from genetic mutations, and can be reversible). All this will allow us to ascertain which alterations cause this greater aggressiveness, and to improve treatments.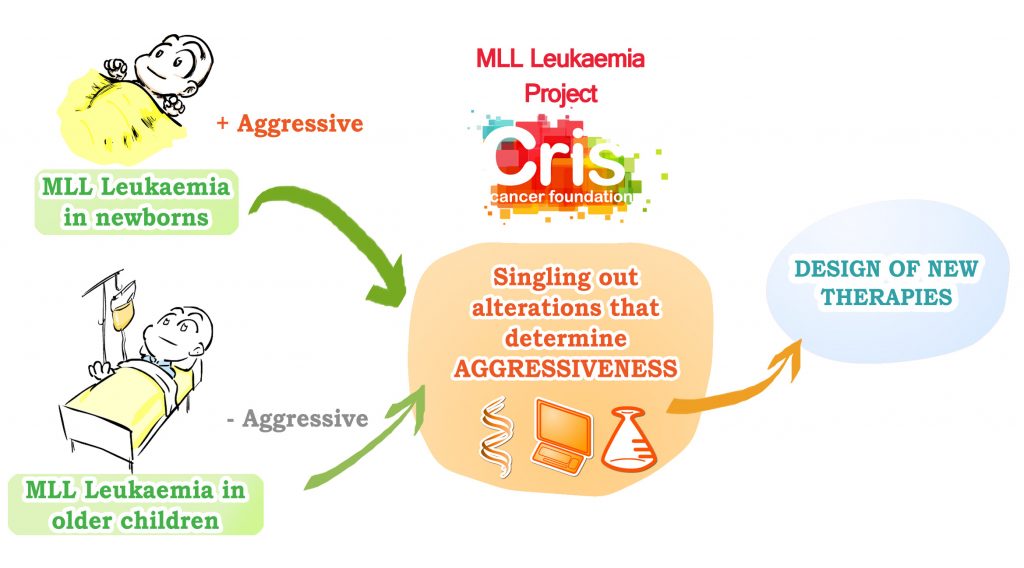 Advances in 2018 – 2019
1) Genetic and Epigenetic analysis of MLL
The results obtained have identified certain alterations in epigenetic mechanisms, which are related to how the cell reads and interprets DNA. Certain proteins that are responsible for this process (known as Histone deacetylases) are related to specific genetic subtypes such as MLL and, more importantly, they are directly related to more aggressive forms with a poorer prognosis. These results are extremely important, because they confirm the potential of Histone deacetylases (see illustration) as therapeutic targets and the use of existing drugs (inhibitors of histone deacetylases) as specific directed treatments for these patients. The results of this study have been published in the prestigious British Journal of Haematology.
PICTURE
These findings have also been presented at numerous international scientific congresses, such as the Biennial Childhood Leukemia and Lymphoma Symposium and the annual congress of the European Hematology Association
2) New techniques for the early detection and improved monitoring of Minimal Residual Disease:
This project was launched in 2018, compiling a large portion of the samples that will be analysed using state-of-the-art techniques. Even though work has only just begun, notable preliminary results are already being obtained, which foreshadow a promising future for this study.
Achievements pre 2018:
During 2016 we have reached the target number of MLL samples, and have also received samples of other kinds of leukaemia. We are completing the selection of the most suitable samples for the study, and have undertaken preliminary analyses. Furthermore, we have recently received the necessary materials to perform the studies systematically (financed by CRIS) and therefore the final analyses of the samples will be performed shortly.