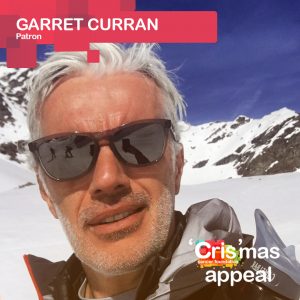 Intrepid adventurer Garrett recently returned from the furthest reaches of the South Pole, where he joined the Headsouth Challenge team on an incredible sponsored expedition. Together, they braved extreme weather conditions, severe altitude sickness and many more challenges to raise much-needed funds for cancer research.
Here's Garrett's story. 
As the rest of the UK celebrated New Year's Eve, long-time CRIS supporter Garrett was instead preparing to say goodbye to his wife Natalia and their three children, before leaving on an epic adventure. 
On 31 December 2019, he and the rest of the Headsouth Challenge team – a group of 10 explorers including former England Rugby Captain Lewis Moody MBE – began their trip across the Antarctic plateau to the South Pole, led by Polar Explorer Alan Chambers MBE. 
Now home and dry, Garrett told us a little about the conditions they experienced on the 115km trek: 
"We faced bracing extreme weather conditions, including temperatures of -45 degrees, wind chill and winds up to 35 knots; we struggled with altitude sickness, blisters and sun blindness – including hypothermia in one case…" 
The Headsouth Challenge, organised by the Lewis Moody Foundation, raised valuable funds for paediatric brain cancer, and specifically brain tumour research. Although brain tumours are one of the biggest killers of children and adults under 40, less than 2% of cancer funding in the UK is spent on the research that is needed to understand them. 
This is something we at CRIS would like to change, so we are extremely grateful to Garrett and to the Headsouth team for their support. Garrett's trek to the South Pole has raised  an incredible £125,000 and counting for CRIS  that will go towards brain tumour projects, in the UK and across Europe.  Garrett is still pledging to match any donation (up to £44,000) personally AND our corporate supporters donating the same matched funding amount from our network.
It's an amazing sum, made possible not only by Garrett's bravery and determination but through your kind donations. 
Garrett and the rest of the incredible Headsouth Challenge team reached the South Pole base on Sunday 12th January 2020, less than a fortnight after setting off from the UK. They were tired, sore, blistered, aching, and triumphant.  
But as Garrett himself says:"the true heroes in this story are the children who have to fight brain tumours and their families, as well as the people who work tirelessly to fund the research and therapies for treatment." 
On behalf of those children and their families, we can't thank Garrett enough. 
Garrett's South Pole expedition is complete, but you can still support the appeal – with every pound donated being tripled, there has never been a better time to support us. 
Will you be ONE MORE?