• The projects supported by CRIS Cancer combine research and patient care, together with advanced techniques of genetic analysis, computational immunology and artificial intelligence. All in order to predict the progress of patients and treat them in a more personalized way.
• CRIS Cancer finances the CRIS Prostate Cancer Unit, as well as 5 new lines of research through the leading CRIS Research Programs and has an international alliance with the Prostate Cancer Foundation, in the USA.
On World Prostate Cancer Day, CRIS Cancer wants to reaffirm the importance of research to end this disease, especially in its most aggressive forms. Every year, more than 35,000 men are diagnosed in Spain with prostate cancer and more than 5,000 patients do not manage to overcome it, which makes it the third type of tumor that causes the most deaths in men. For which the efforts of CRIS Cancer are focused on finding new therapies to treat patients who do not respond to conventional treatments.
Marta Cardona, director of CRIS Cancer Spain, assures that "We know that prostate cancer, thanks to research in recent years, has better treatments that increase patient survival. But the most aggressive cases still have to be eliminated, which is why, together with the partners and donors of CRIS Cancer, we invest in these lines of research that help us to be closer to a cure every day".
CRIS Cancer proposes a comprehensive approach to this tumor, studying metastatic prostate cancer from different approaches and at different stages of the disease. One of the flagships of this strategy is the Prostate Cancer CRIS Unit led by Dr. Elena Castro at IBIMA (Málaga), one of the world leaders in research on this tumor. One of its great advances has meant a change in clinical guidelines, looking for genetic mutations that predispose to suffering from this tumor in an ambitious study
In addition, it finances five young and brilliant researchers who have been awarded with its leading CRIS Research Programs, an international reference for its duration and powerful financing. These researchers are: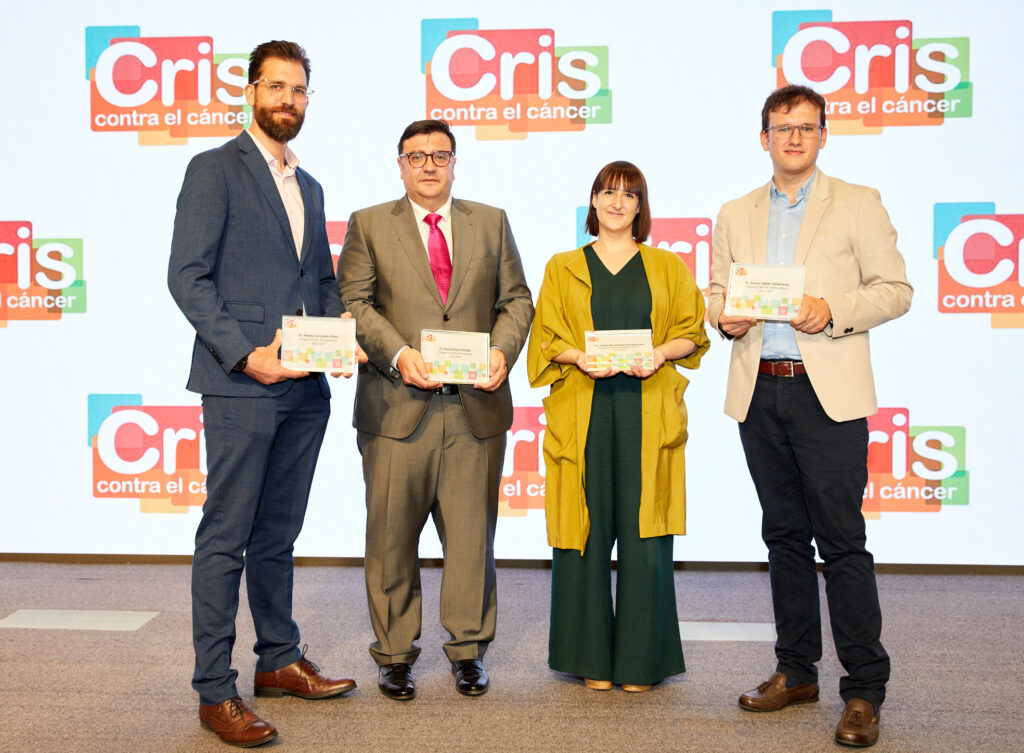 – Dr. David Olmos (Hospital 12 de Octubre-CNIO, Madrid), an international reference, who works to identify and treat early patients with a particularly deadly combination of mutations.
– Dr. Joaquín Mateo (Vall d'Hebron Institute of Oncology, Barcelona), a brilliant young researcher, analyzes tumors in their different stages looking for weak points.
– Dr. Isabel Mendizábal (CIC BioGUNE, Bilbao), who faces the challenge of predicting a metastasis from the diagnosis of the disease thanks to computational analysis and artificial intelligence
– Dr. Nuria Romero Laorden (Hospital La Princesa, Madrid) who uses state-of-the-art techniques to find out which patients with metastatic cancer can respond to immunotherapy
– Dr. Arkaitz Carracedo (CIC BioGUNE, Bilbao), who looks for weak points in cells that resist treatment and restore tumors.
On the other hand, to strengthen prostate cancer research in Europe, CRIS has been maintaining an international alliance with the Prostate Cancer Foundation for 3 years, supporting talented young researchers in Spain, France and the United Kingdom.
The different lines financed, in which scientists combine research with patient care and use the most cutting-edge molecular and computational analysis techniques, have provided significant advances in prostate cancer. Many of these advances have had a strong impact on disease management and clinical practice. Furthermore, the results of these projects have the potential to revolutionize the treatment of prostate cancer. A new proof that we will only be able to defeat cancer through research.