Project name Translational Research and Clinical Research Unit in the field of Leukaemia, Multiple Myeloma and Lymphoma
Principal Investigator: Dr Joaquín Martínez
Centres: 12 de Octubre University Hospital in Madrid    
Timeline: 2011 to 2018
Background
Haematology or blood cell tumours are cancers which are, to a great extent, currently incurable. They are the 4th group of tumours in Spain, with almost 30,000 new cases per annum, of which only 50% are curable. They can be controlled in a large part, but, in many cases, there are quite unpredictable relapses. Research in this field is therefore indispensable.
Project Description:
This service combines clinical research on patients and laboratory research, within the assistance service for haematology tumours at H12O hospital. The service provides treatment to hospital patients and outpatients and also implements clinical trials. Operation of this unit allows a first-hand research of these tumours, which are currently, to great extent, incurable.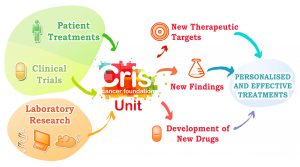 Achievements in the past year (different from previous year's results): The unit, authorised by the Madrid Regional Government for Phase I trials, is currently fully operative, with more than 80 clinical trials under way. Some of these trials have allowed verifying the safety of experimental treatments, which has resulted in Phase II trials that purport to confirm the treatments' effectiveness. An example is the treatment of myeloma with NK cells in multiple myeloma.
Furthermore, the Research Unit is showing good results from a scientific standpoint:
In the field of Preclinical Research, an article has recently been published in the prestigious publication Blood, establishing the molecule PAK4 as a new therapeutic target in multiple myeloma (add LINK to Pubmed). Likewise, another myeloma project, presented in the ASHA (American Society of Haematology) Annual Congress 2016, is about to be published. Significant work has been carried out in the field of Acute Myeloid Leukaemia and myelodysplasia, to be published during 2017.
In the field of Clinical Research, 2 Phase I clinical trials have been prepared with a proposal by the investigator. This means that the laboratory results directly translate to the design of a clinical trial. These were approved in 2016 and will be implemented during 2017. There are currently a large amount of clinical trials underway: 12 Phase I Trials, with 43 patients; 5 Phase I/II Trials, with 9 patients; and 27 Phase II Trials, with 85 patients. The group has taken part in more than 35 research articles, 12 of them in high-impact publications. These include two articles in Blood, one in the New England Journal of Medicine, one in Lancet Oncology and one in the British Journal of Haematology. Read more