Name of the Project: Supporting Prostate Cancer Research for New Treatments
Principal Researcher: Dr David Olmos and Dr Elena Castro
Centres: Centro Nacional de Investigaciones Oncológicas – National Oncological Research Centre (CNIO), IBIMA (Instituto de biomedicina de Málaga – Málaga Biomedicine Institute ).
Background:
Prostate cancer is the most frequent male cancer in the Western world, and its incidence increases year by year; it is already the 3rd cause of male death by cancer, after lung and colorectal cancer, with 5,400 annual deaths in Spain.
Although in a high number of cases it is curable with surgery and radiotherapy, some patients with more aggressive forms of this cancer are not diagnosed correctly and are treated with less potent therapies than they should. It is necessary, on the one hand, to improve diagnosis tools and criteria in order to be able to choose the most suitable treatments for each patient, and, on the other, to find new forms of treatment to cure the more aggressive tumours.
Project Description:
The Prostate Cancer Clinical Investigation Unit headed by David Olmos is working to develop new treatments for prostate cancer, especially in its more aggressive forms. The group is implementing a large amount of clinical trials, several of them multi-centre trials (comprising several hospitals within Spanish territory) and other smaller trials. Most of these multi-centre trials are included within the framework of the platform PROCURE.
As well as studies and projects comprised within or directly resulting from this platform, they are implementing a series of clinical and preclinical investigation projects.
Achievements in the past year :
The different trials included within the PROCURE platform (PROREPAIR, PROSTAC, PROSABI, PROSENZA, …) Have been actively recruiting in the past few months, and most patients have been tracked at least 20 months. Furthermore, during this year, a study (Theratlas) will be implemented to collect samples of all these trials, in order to study the evolution of prostate tumours in the different development phases.
The group is also writing an article regarding hormonal treatments and their combination with certain corticoids, which could have a direct application in the treatment of, particularly difficult cases.
Likewise, certain laboratory studies have been commissioned to qualify patient tumours with high levels of proteins associated with poor prognoses, such as BRCA1 and 2, or mutations and proteins that help to repair DNA, such as ATM. Furthermore, they are studying, in animal models, how these proteins collaborate between them in the development of prostate tumours.
Project PROSENZA to research prostate cancer tumours is implemented with the support of the Social Work area of "la Caixa". Read more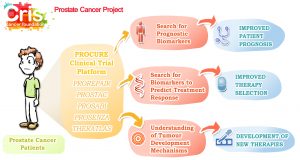 Latest Update (2017)
CRIS has for years financed a Clinical Trial platform called Procure, which studies mutations linked to greater aggressiveness and resistance to treatment by using the most cutting-edge DNA sequencing methods in tumour cells.
They have confirmed that some mutations in proteins that repair damaged DNA are frequent in patients with very aggressive prostate cancers that are resistant to conventional treatment. Knowing this, prostate cancer patients can be screened for these mutations in their initial diagnosis; if these cells are present, their therapy can be adapted, and more personalised therapies sought.
This year they have also published a study showing the effectiveness of a combination of treatments for patients with the protein mutations mentioned above. This is very promising for these patients who, to date, have very few therapeutic options.