Lead Investigators: Dr. Luis Paz-Ares, Dr. Luis Álvarez-Vallina.
Centre: 12th October University Hospital, Madrid, Spanish National Cancer Research Centre (CNIO).
What is this project about?
The concept of how cancer develops has changed radically over recent years. Tumours have ceased to be regarded as isolated bodies growing disconnected from their environment, and tumour cells have been shown to maintain a close relationship with their environment, communicating with and manipulating it.
Among the components of the tumour's environment, the immune system plays a fundamental role. Under normal conditions, our immune cells ("cellular troops") are capable of identifying and destroying any tumour cell extremely effectively. But sometimes tumours are able to shut down, confuse or evade the immune response against these altered cells.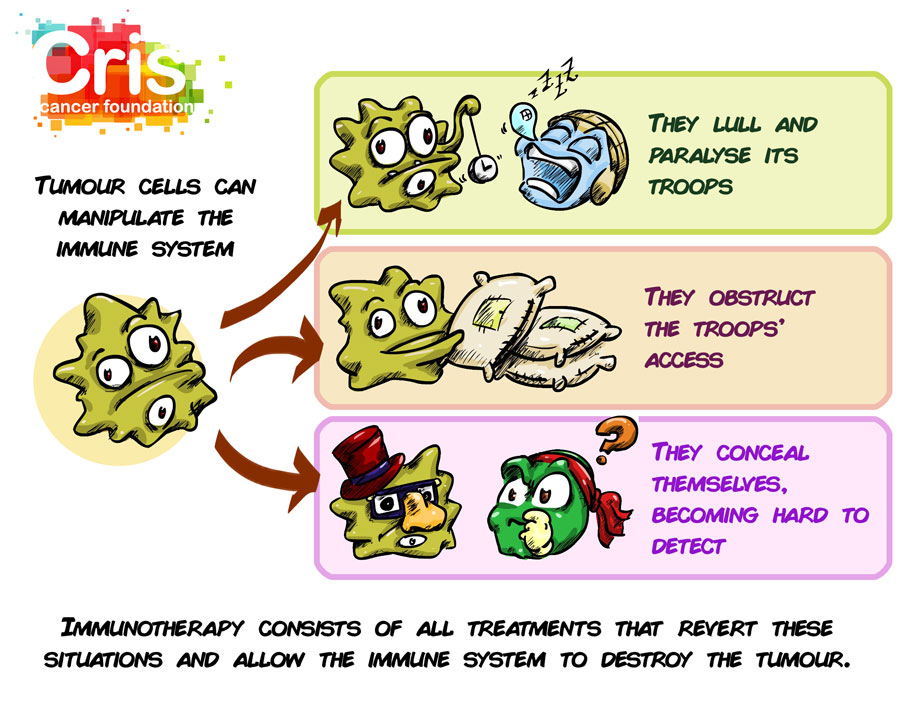 It has been shown in the last few years that certain immune system switches can be flicked to reactivate and/or redirect immune responses against the tumour. Not only does this enable elimination of tumours, but also the development of a lasting response and prevention of future relapses. This therapeutic manipulation of the immune system is called immunotherapy. Its implementation in cancer has revolutionised the understanding and treatment of these diseases.
These types of treatment are more precise and advanced therapies, which are showing very promising results. However, the various immunotherapy treatments are not effective for all patients, so there is an urgent need to develop:
Methods to predict which patients will respond positively to current immunotherapies.
New therapeutic approaches and strategies to broaden the range of action of immunotherapies, to reach the maximum number of patients possible.
The aim of this project
The new CRIS Immuno-Oncology Unit is a pioneering initiative in Spain, and focuses on immunotherapies based on various strategies and disciplines, to develop them as optimally and efficiently as possible. It has three of Spain's most outstanding researchers in this field to do this. The Unit's three branches are:
Immunotherapy in Lung Cancer and Solid Tumours: Led by Dr Luis Paz Ares, Head of Medical Oncology, 12 de Octubre Hospital, who will also lead the CRIS immunotherapy Unit.
Immuno-Haematology and Cell Therapy: Led by Dr Joaquín Martínez, Head of Haematology, 12 de Octubre Hospital
Immuno-Engineering for Immunotherapy: Led by Dr Luis Alvarez Vallina, Head of the Cancer Immunotherapy Unit (UNICA), 12 de Octubre Hospital, and of the Immunotherapy and Cellular Engineering laboratory at Aarhus University in Denmark.
These three projects will cooperate closely in developing innovative new therapies, new prognostic methods and biomarkers for predicting response, and implementing them swiftly in clinical trials.
Immunotherapy in Lung Cancer and Solid Tumours:
Dr Luis Paz-Ares' group is split between the 12 de Octubre Hospital and the Spanish National Cancer Research Centre (CNIO). Its main objective is to identify those patient characteristics that enable prediction of their response to immunotherapy, to develop custom therapies and to develop new clinical trials. The researcher responsible for this line within Dr Paz-Ares' team is Dr Eva María Garrido.
Immuno-Haematology and Cell Therapy:
This multidisciplinary group, led by Dr Joaquín Martínez-López, performs its work between the Translational Haematology Research Unit at the 12 de Octubre Hospital and the National Cancer Research Centre (CNIO). The group's main research focuses are next generation cell therapies and the design and implementation of clinical trials.
Immuno-Engineering and Immunotherapy:
Dr Luis Alvarez Vallina's group has vast experience in developing therapies based on genetic engineering. Indeed, some of their work has been a cornerstone for current CAR therapies. The fundamental participation of Dr Alvarez-Vallina in this Unit will enable generation, development and immediate introduction of the most innovative and revolutionary therapies into clinical trials in solid and haematological tumours.
As a whole, this is a unique multidisciplinary unit in Spain, which will address the treatment of all types of cancer using various immune-based strategies, will generate innovative clinical trials and will always be at the forefront of new treatments.
Advances in 2019
Solid Tumours Group:
The Solid Tumours Laboratory currently has 13 Phase I and 12 Phase II clinical trials in progress, trialling new immune therapies and their combinations. Four Phase III lung cancer clinical trials and nine in other types of solid tumours are underway.
One of the keys to spreading the use of immunotherapy and getting maximum benefits from it is understanding: 1) which patients could benefit, 2) knowing this in advance, and 3) making it work in those patients where it would not have previously. With these goals in mind, the laboratory has obtained material from the tumours of 200 patients with non-small cell lung cancer and is conducting thorough genomic and immunological analyses. The objective is to produce a comprehensive profile of the immune system in these patients' tumours and to establish some predictions as to which of these patients might have benefitted from immunotherapy.
To validate these predictions, the same type of analysis is being carried out on samples from over 200 patients who received different types of immunotherapy. Some of them responded well, but others did not. If the profile of patients who responded well is similar to that predicted in the previous analysis, a kind of pattern to identify patients with lung cancer who will benefit from immunotherapy will have been detected. These results will be of incalculable value from the patient prognosis and monitoring point of view, and this is a key step in personalising therapies.
Advances pre 2018
Solid Tumours Group:
The Solid Tumours lab is currently developing 13 Phase I clinical trials and 12 Phase II trials, testing out new immunological therapies and their combinations. It is also developing 4 Stage III trials for lung tumours, and 9 for other types of solid tumours.
One of the keys to achieving the widespread use of immunotherapy and obtaining maximum benefits entails: 1) knowing which patients could benefit; 2) knowing this in advance, and 3) ensuring it works for patients on whom, a priori, it would not have. With this goal, the lab has obtained samples from 200 patients with non-microcytic lung cancer, and has conducted in-depth genetic and immunological analysis. The results of these analyses will provide fundamental data in the prognosis and follow-up of patients who could potentially benefit from immunotherapy.
Immunoengineering Group:
Antibodies are molecules that act like guided missiles, identifying and bonding with great efficiency and specificity to the molecule against which they have been designed. Some special antibodies are known as Bispecific Antibodies. These do not bond to one molecule but to two different ones, as we can see in the image:
This means that they can be designed to bond to and attract tumour cells and T lymphocytes to one another, making immunological response much more effective. The group led by Dr. Álvarez Vallina has been working intensely to achieve new antibodies of this type, which are safer, more efficient, and with a longer-lasting effect. They have currently obtained one highly promising antibody and they are developing the next steps in order to use these antibodies on patients.