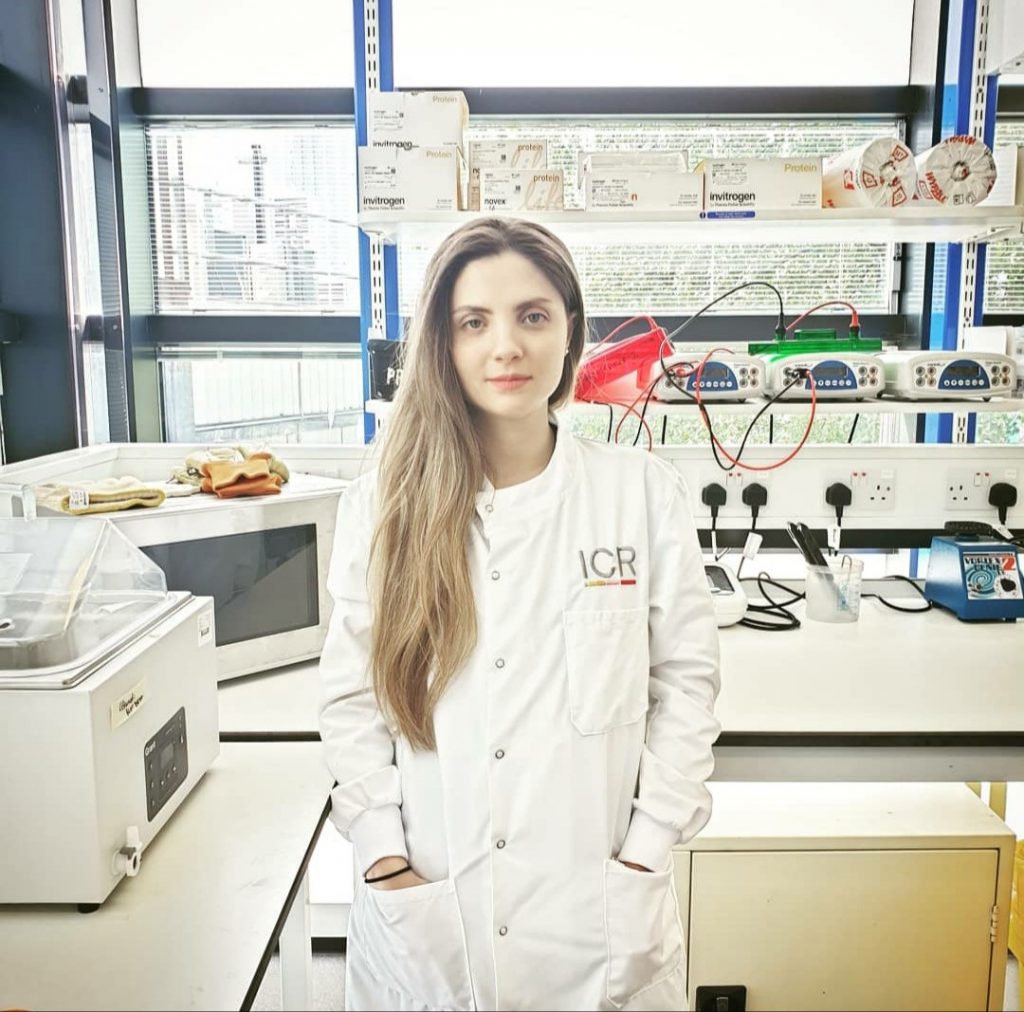 Dr Vivan Dimou is a Postdoctoral Training Fellow in the Cancer Immunotherapy team, led by Dr Astero Klampatsa at The Institute of Cancer Research (ICR). This research team was generously funded by CRIS Cancer Foundation. Vivian is working on novel immunotherapeutic approaches in mesothelioma – a rare and aggressive type of cancer arising primarily in the lungs' mesothelial surfaces, most often following exposure to asbestos.
Talk us through your typical day
The recent pandemic has led to a new definition of what we could describe as a typical day for a scientist. Nevertheless, as a new starter, my daily schedule currently involves a lot of reading and attending training courses. As the single other member of Dr Astero Klampatsa's new lab – much of my first few months at the ICR were spent helping my PI, Dr Klampatsa, to set up her lab.
As the lab has now started growing and new members and equipment are coming in, my daily schedule will shift more towards experiments with clinical samples and cell lines in collaboration with the rest of my colleagues, our Higher Scientific Officer Dr Reena D'Souza and our PhD student, Reyisa Bughda – also supported by CRIS Cancer Foundation.
The members of our team come from a range of different scientific backgrounds, so I am looking forward to learning from my colleagues as well as providing assistance and support whenever necessary. Exciting times are definitely ahead of us!
How does your work contribute to the ICR's mission?
Our work aims to improve patient outcomes by introducing novel immunotherapeutic approaches in mesothelioma – a rare and aggressive type of cancer arising primarily in the lungs' mesothelial surfaces, most often following exposure to asbestos. Mesothelioma treatment options are currently limited and prognosis is poor.
Our group will be focusing on mesothelioma patient immune-phenotyping, as well as developing novel CAR-T cell approaches in treating mesothelioma. A CAR (chimeric antigen receptor) is essentially a modified version of a T cell receptor, designed to recognise with maximal capacity antigens expressed on the surface of tumour cells or tumour microenvironment, leading to T cell activation and tumour killing. Engineering patient-derived T cells to express a CAR recognising an antigen preferentially expressed by mesothelioma tumour cells or tumour microenvironment, could revolutionise mesothelioma therapies.
What big projects are you working on?
My project will focus on understanding tumour-infiltrating lymphocytes in mesothelioma patient samples, in order to rationally guide and assist CAR-T cell design.
Your work in a tweet
Mesothelioma: Go CAR-T!
What are you most proud of?
I am proud to be part of a world-class institute that focuses on cancer research and actively works to promote application of research findings towards the development of novel and highly effective therapies to improve patients' lives. I could not be happier for the chance to use my passion for immunology in driving progress in mesothelioma research.
Can you give us any examples of where you see the ICR's values in your work?
The ultimate aim of our work is to develop novel CAR-T cell immunotherapies that will improve mesothelioma patient outcomes and will make a difference in patients' lives. I believe that our research goals and our collaborative spirit are in full accordance with the ICR's core values.
What makes you want to work for the ICR?
The ICR has a great reputation that speaks for itself. Ever since I first came to the UK as an Erasmus student, I always heard of the ICR as being the most prominent institution in cancer research – a reputation that is not restricted to high calibre academic publications but which extends to novel treatments that benefit patient care. I believe that anyone would want to work in such an institution where their work could make a difference in cancer care and for me, working on CAR-T cell immunotherapies is an aspiration that finally came true.
What's your favourite part of your job?
The thrill of scientific work! The whole process of reading and reviewing findings by other groups that are relevant to my work so I can strengthen my knowledge and get inspiration that is necessary for brainstorming. Combining existing knowledge together with novel ideas in experimental design, running my own experiments, analysing data and generating new findings is a challenging but at the same time fascinating and fulfilling process. It is quite safe to say that a scientist's life is rarely boring!
What do you do to wind down?
During quarantine I started some new hobbies and improved my piano music skills, which I had neglected due to heavy workload for quite a long time. With regards to new hobbies, I started running on a daily basis as I live close to a beautiful and quiet park and this was a real blessing during lockdown. I now enjoy running more than I ever expected I would!
Furthermore, I became a self-taught crocheter and I am very proud of all my creations, although they were not always perfect! Getting to love crocheting so much, I decided to create a few science-related items and set up auctions to raise money in order to support the ICR's kick-start campaign. I was able to raise £219.50 from the auctions which have now been donated to the ICR. Although it was just a small amount of money, I am very glad that I was able to contribute to the campaign and allow more people to know about the ICR's life-saving research, and I would be more than happy to organise similar auctions in the future!