Nuria's Hair Cut.
Once, a few years ago, I did something similar, while I was loosing two important persons in my life… Both left this world after a long fight against cancer. So I run (for the first time in my life) and raised money for investing in life.
After that important loss (maybe the most important ones so far), I decided to get even more involved than before for this cause. Soon after I met Lola, and little by little I became part of CRIS. Now I feel I'm challenging myself everyday trying to do my best for CRIS and the fight against cancer. Please remember, we are all CRIS, I hope you will reach this feeling soon.
Well, now is time for MY SUPER CRIS CHALLENGE!. First I thought on running again and beat the distance I did last time. Then I thought about another more singular thing to do and suddenly came out this idea while reading stories on Facebook.
I always remember the time, when I was a child, and my father used to bring me, every summer, to the hairdresser to CUT MY HAIR very short. I cried and cried. I hate it. it was really frustating for me but there was no sympathy. Since then, a lot has gone through and now at the final door steps of my 30's I am still feeling those horrible butterflies on my stomach each time I sit on the saloon chair. Yes, this can sound to you a bit silly, but my hair is something I feel very attached to,…maybe because I married a lovely bold man (:-)).
When I learned how important hair is for some cancer patients, I thought, why not donating it? So here I am, it is time to get over my fears for Cris. This is my challenge: I will cut my hair very short and I will donate it to make wigs for cancer patients. For my husband, this will be also a challenge!, He loves my ponytail. Hence this time it will be 2 challenges in one.
The length of my hair depends on you!! I won't cut it until I reach MY SUPER CRIS CHALLENGE: to raise 1,500£ for CRIS CANCER FOUNDATION and the two projects CRIS is funding through this campaign.
Please donate for this cause. Just think about saving that last drink on Fridays or spending less on Primark. Please think about investing on research and life.
Thanks again for your support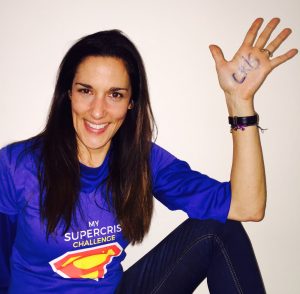 Nuria